Immerse yourself in the intricate artistry of traditional Mehndi designs with our exquisite Mehndi Photo Album Design PSD Templates 2023. Crafted for those who appreciate the finer details, these Paid PSD Templates offer a premium canvas for your cherished memories. Explore the beauty of Mehndi art in every pixel, meticulously designed in a size of 12×36 inches and remarkable 250 DPI resolution. Each template is a masterpiece, capturing the essence of cultural richness and celebration. You Can Also Check 12×36 Wedding Album Design PSD Templates 2023.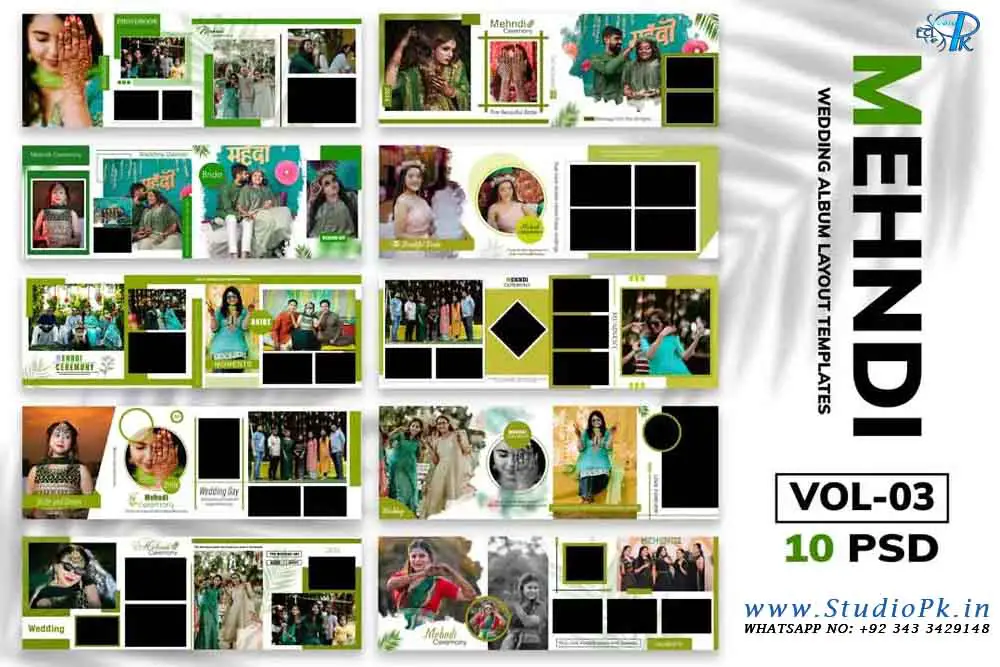 Transform your wedding memories into timeless treasures with our high-quality templates. Every swirl and curve in the mehndi patterns is brought to life, ensuring your photo album narrates your love story with grace and elegance. The intricate detailing and vibrant hues create a visual symphony, making these designs a perfect choice for your special moments. Whether you're a professional photographer or a couple crafting your own wedding album, our templates provide a sophisticated backdrop, elevating your album to unmatched levels of sophistication.
You Can Also Get More PSD:
These Creative Album Design PSDs are created in 250 DPI resolution quality which is perfect for print. These types of album design templates are most useful for album designers and photo studios. Because these designs are completely ready to use, if you create a custom design in Adobe Photoshop it will take a lot of time.
Indulge in the richness of Indian heritage and the artistry of Mehndi with our exclusive collection. Enhance your wedding album experience and relive the magic of your Mehndi ceremony. Download our PSD Templates and let your memories unfold in a tapestry of mehndi-inspired elegance.
Demo of Mehndi Photo Album Design PSD Templates 2023
Below, I've shared 10 JPG screenshots with you, giving you an idea of how these album designs look. If you like this demo, you can purchase them from me. Feel free to contact me on my WhatsApp number after viewing the demo images.








Product Details:
Template Type: 14×40 Wedding Album PSD
Compatibility: Adobe Photoshop
Dimensions: 14×40 inches
Resolution: High-quality for impressive print results
File Format: PSD (Adobe Photoshop)
Editability: Fully customizable layers
Print-Ready: Prepare for professional printing
What You'll Get:
Photo Album Design PSD
01 ZIP File
14×40 Size PSD 250 pix
Data size 157 MB
10 PSD

You Can Also Get More PSD:
Dear Viewers! How did you like these 12X36 Photo Album PSD Designs? You must write in the comment. If you need more new PSD Sheets then you can search for them on our site and download Them easily, Also if you need Photoshop PSD Files or any kind of resources related to Photo Studio, or other topics then you must write us in the comment. We will try our best to provide with you as much as possible.