If you're looking for an affordable Luxury Photo Album Cover Design, then you're at the absolute right place. This New Luxury Photo Album Cover Designs PSD Vol-01 is designed to elevate your cherished memories. Crafted with meticulous attention to detail, these covers redefine elegance and sophistication. Available in a stunning 12×18 size, they offer the perfect canvas to showcase your most treasured photographs in a grandeur manner. Each design boasts a harmonious blend of modern aesthetics and timeless appeal, promising to captivate hearts and stand the test of time. From opulent patterns to tasteful motifs, these PSD designs cater to every discerning taste, making your photo album a true masterpiece. Whether commemorating a special occasion or preserving the essence of everyday moments, our New Luxury Photo Album Cover Designs PSD will undoubtedly add a touch of class and refinement to your precious keepsakes. You Can Also Free Download Wedding Album Cover Design PSD.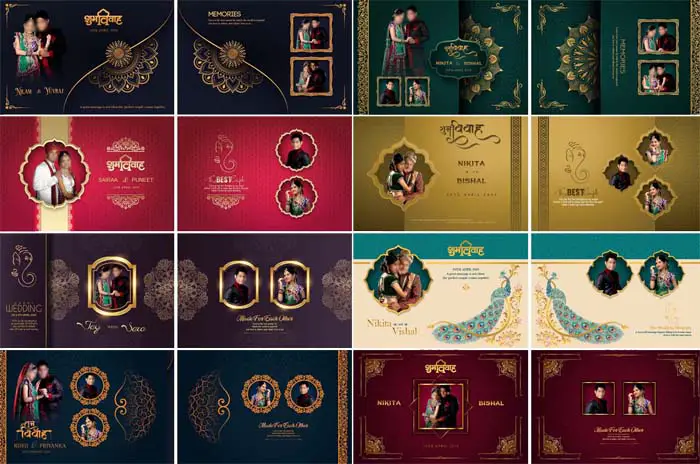 You Can Also Get More PSD:
This Photo Album Cover Design PSD is fully editable in 12×18 size Photoshop separated layers. After purchase, you can easily customize the layers and replace or add your wedding, or engagement photography images. I recommend that you have should be at least Adobe Photoshop CS3 or higher for sheet/template customization and adding your photograph.
30 Screenshots of New Luxury Photo Album Cover Designs PSD Vol-01
Below I have shared with you 30 screenshots images of the Photo Album Cover Designs to get a better idea before purchasing.















In conclusion, Luxury Photo Album Cover Designs PSD offers a remarkable fusion of contemporary artistry and enduring charm. With their generous 12×18 size, these covers provide a captivating platform to showcase your most cherished photographs. Whether you are looking to immortalize a significant event or simply preserve the beauty of everyday life, these designs present an exquisite way to do so. The attention to detail and dedication to excellence showcased in each design truly make these photo album covers a work of art, elevating your memories to a level of opulence and sophistication. Embrace the opportunity to create a timeless masterpiece that will be cherished for generations to come with our New Photo Album Cover Designs.