Immerse yourself in the vibrant colors and festive spirit of Haldi Ceremonies with our exquisite collection of 12×36 Album Design PSD Templates For Haldi Ceremony. Crafted for those seeking sophistication and creativity, these Premium Templates offer an unparalleled canvas for capturing the joyous moments of this special occasion. Each design is meticulously tailored to encompass the essence of haldi ceremonies, blending tradition with contemporary elegance. You Can Also Check More Free Photo Album Design PSD Templates.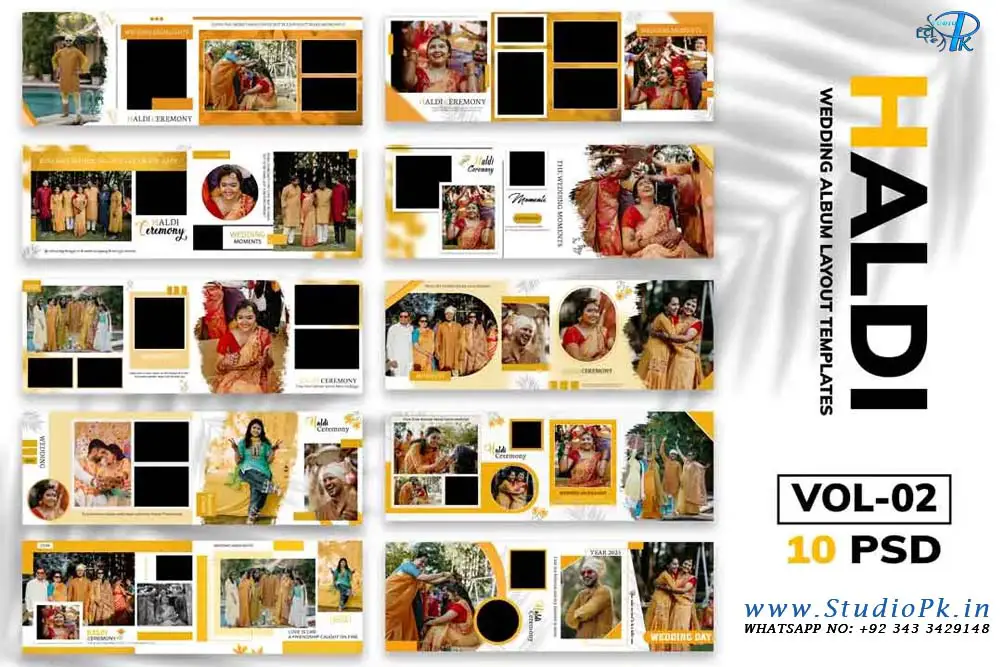 With our paid 12×36 Album Design PSD templates, your haldi ceremony memories come to life in stunning detail, thanks to the high-quality 250 DPI resolution. Elevate your photography projects, whether you're a professional photographer or a couple curating your own wedding album. Embrace the richness of this vibrant tradition as our templates provide the perfect backdrop for your cherished moments. Transform your haldi ceremony memories into timeless visual narratives, preserving the laughter, love, and traditions for generations to come.
You Can Also Get More PSD:
Indulge in the artistry of our Haldi Ceremony Album Design PSD Templates, where every brushstroke captures the essence of this colorful event. These paid templates are thoughtfully designed to accommodate diverse tastes, ensuring a perfect fit for your unique style. The intricate detailing and vibrant color palettes bring the spirit of haldi ceremonies to life, making your photographs come alive with authenticity and charm. Whether you're capturing candid moments or intricate rituals, our templates provide the ideal setting, allowing you to curate an album that truly reflects the beauty and significance of your haldi ceremony. Download your templates today and embark on a creative journey where tradition meets innovation, turning your memories into timeless masterpieces.
Demo of Haldi Ceremony Album Design PSD Templates
Below, I've shared 10 JPG screenshots with you, giving you an idea of how these album designs look. If you like this demo, you can purchase them from me. Feel free to contact me on my WhatsApp number after viewing the demo images.










Product Details:
Template Type: 14×40 Album Design PSD
Compatibility: Adobe Photoshop
Dimensions: 14×40 inches
Resolution: High-quality for impressive print results
File Format: PSD (Adobe Photoshop)
Editability: Fully customizable layers
Print-Ready: Prepare for professional printing
What You'll Get:
Photo Album Design PSD
01 ZIP File
14×40 Size PSD 250 pix
Data size 230 MB
10 PSD

You Can Also Get More PSD:
Dear Viewers! How did you like these 12X36 Photo Album PSD Designs? You must write in the comment. If you need more new PSD Sheets then you can search for them on our site and download Them easily, Also if you need Photoshop PSD Files or any kind of resources related to Photo Studio, or other topics then you must write us in the comment. We will try our best to provide with you as much as possible.