Capturing the essence of a bride's beauty and grace is a cherished art in the realm of photography. Every smile, every glance, and every moment tells a unique story of love and anticipation. To immortalize these precious moments, a Bride Close-up Photo Album serves as a timeless testament to the beauty of the bride on her special day. In this digital age, where memories are treasured not only in our hearts but also on our screens, having a meticulously designed photo album is essential. We present to you the Bride Close-up Photo Album Design 12×36 PSD, a downloadable gem that transforms your photographs into a visual masterpiece. You Can Also Free Download 10000+ Wedding Album DM Design 12X36 PSD Templates.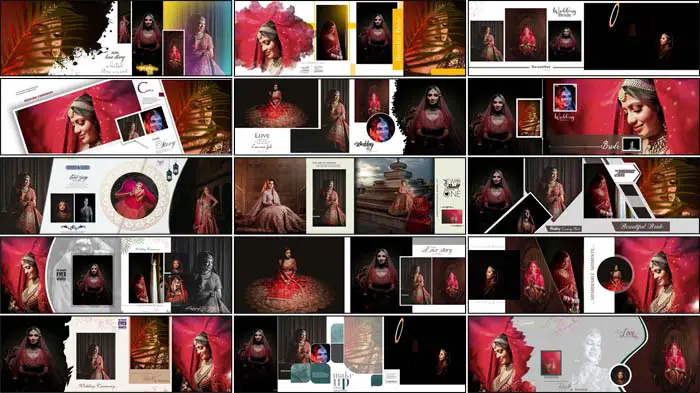 The Beauty of Close-up Photography:
Close-up shots capture the intricate details of a bride's attire, the sparkle in her eyes, and the emotions etched on her face. These intimate moments, when compiled thoughtfully, create a narrative that resonates with the heart. The Bride Close-up Photo Album Design 12×36 PSD is specifically tailored to enhance these close-up shots, ensuring that every image tells a story of love, elegance, and joy.
You Can Also Get More PSD:
Features of the PSD Design:
High-Quality Resolution:
The PSD files are designed in high resolution, preserving the clarity and sharpness of every image. This ensures that the intricate lace on the bridal gown and the sparkle of the jewelry are captured in exquisite detail.
Customizable Layouts:
The 12×36 dimensions offer spacious layouts, allowing you to arrange your close-up photographs creatively. With customizable layers, you can effortlessly drag and drop your images, adjusting sizes and positions to perfection.
Elegant Design Elements:
The PSD files come with elegant design elements, such as floral motifs, delicate borders, and subtle textures. These elements add a touch of sophistication, framing your close-up shots beautifully.
Text Integration:
Integrate meaningful captions, quotes, or the couple's names seamlessly. The PSD design provides editable text layers, allowing you to add a personal touch to every page of the album.
Free Download:
The best part? This Bride Close-up Photo Album Design 12×36 PSD is available for free download. It's a valuable resource for photographers, allowing them to create professional-grade albums without any additional cost.









Preserving Precious Memories:
A wedding is a celebration of love, and the bride is its radiant centerpiece. With the Bride Close-up Photo Album Design 12×36 PSD, you can transform those intimate moments into a tangible work of art. Each page becomes a canvas, painting the story of the bride's journey from anticipation to bliss. Download your copy today, and let your photographs speak volumes in this beautifully crafted photo album. Capture the essence of love, one close-up at a time.