Are you searching for Creative 1st Birthday Album Designs? Look no further; you've arrived at the perfect destination. In today's post, we're thrilled to share our curated selection of the Top 10 Creative 1st Birthday Album Design PSD, each crafted meticulously at 300px high-resolution quality. These PSD files showcase a blend of creativity and modern aesthetics, tailored to meet the demands of graphic designers. We invite you to explore our collection, confident that these sheets will significantly enhance your album design endeavors, bringing the utmost satisfaction.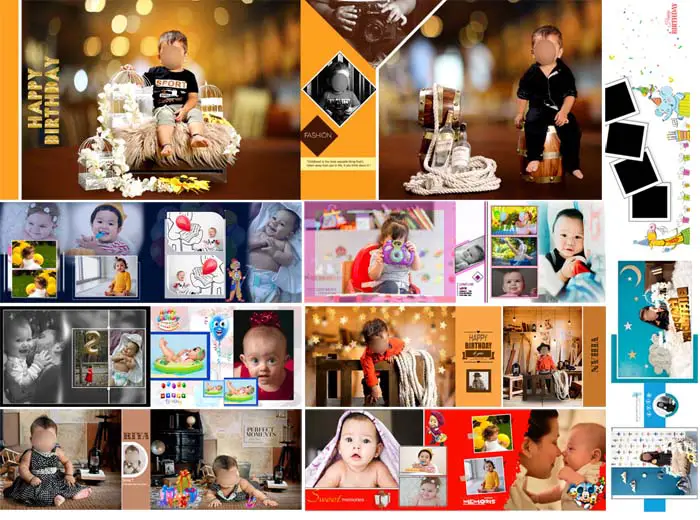 Explore our versatile range of designs, including Birthday Album Designs, Newborn Baby Album Designs, and Kids Album Designs. Every element is carefully curated to elevate your creativity and provide you with the perfect canvas for your cherished memories. Elevate your album designs with us, where creativity knows no bounds.
Each 1st Birthday Album Design featured here is not just visually captivating but also highly editable, with well-organized PSD layers. Whether you wish to make slight adjustments or extensive modifications, Adobe Photoshop makes the process effortless. These designs are not only perfect for personal projects but also ideal for professional use. If you're creating a Birthday album for your clients, these PSD sheets provide 3-5 blocks where you can seamlessly upload or design custom Wedding Photos, tailoring each album to perfection.
At our platform, we understand the importance of every life event, especially those as precious as a child's first birthday. That's why our collection doesn't stop at Birthday Album Designs; we also offer exquisite options for Newborn Baby Albums and Kids Albums. Each design is meticulously created to ensure it captures the essence of these significant moments. Whether you're an individual seeking a beautiful keepsake or a professional designer aiming to delight your clients, our collection guarantees to exceed your expectations.